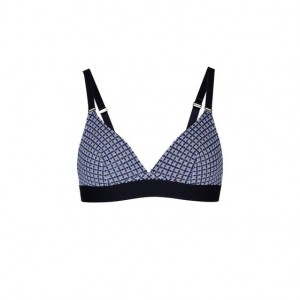 Most Western runway models are not busty, though fit models are supposed to be a bit more like real women. This means Chinese women face something of a quandary when it comes to selecting their brassiere. Until recently, the vast majority of women tried to compensate, probably overcompensate. Heavy padding and push-up bras were the norm. The ubiquity of ads for breast enlargement, from taxis to magazines, reinforce the notion that Chinese women are a bit insecure when it comes to chest area. Like surgery that makes eyes larger or the preference for whiter skin, the interest in larger breasts might also be a desire to appear more Western.
Recently, more stylish women in the more international cities have been turning to bras with minimal or no padding. This appears to reflect a new confidence and a turn away from using fashion as a vehicle for becoming a different person toward using it for expressing personal style. More sophisticated women are also more aware of international trends and can be expected to know that the ideal in the fashion world is not for women with large breasts but rather for those with a physique that is not dissimilar to the Chinese one. The preference for non-padded bras could thus reflect both an confidence and adherence to trends. Our era that emphasizes authenticity must also be a factor. People everywhere no longer embrace style that seems fake or made to deceive.
The Stella McCartney brand matches this era and the turn toward more discreet, smaller brands that emphasize quality and style rather than logos and glitz. The brand is on a major push in Mainland China that will see the opening of up to thirty boutiques throughout the country. The geometric print soft cup bra is now available at the designer's two shops that just opened in Beijing and Shanghai.