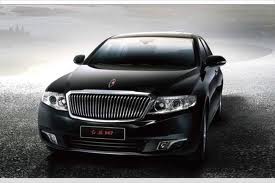 In addition to marketplace-defining bestsellers, we will frequently cover what China might buy or occasionally buys if this item can tell an interesting story.  Niche products, new releases, and even failures can reveal much about the likes and dislikes of our target consumers.
Most Chinese officials ride the Audi A6L and businessmen favor Mercedes Benzes, BMWs, sometimes Lexuses, and Bentleys when they can afford them.  The children of both drive Porsches, Ferraris, Maseratis and the sportier models from dad's preferred brands.  China's own luxury car, Hongqi or Red Flag, has not been a contender since production ceased in 1982.  This was the limousine based on a '50s Chrysler that ferried around Mao, Deng and even Nixon on his famous visit.  Over the last three decades, First Auto Works (FAW) has made several attempts to re-release the Hongqi.  All of these were based on the cars of foreign companies partnering with FAW, none succeeded, and all were discontinued.
The latest attempt at the Hongqi seems more ambitious.  FAW will be investing 10.5 billion yuan ($1.7 billion) into developing the Red Flag and there seems to be support coming from within government.  In this age of understatement and discretion, officials would look less grandiose in domestic vehicle, and the only one with enough status is Hongqi.  French President Hollande recently rode a Hongqi limousine during his state visit 20 Red Flag sedans were sent to Fiji for use at the Group of Seventy Seven summit. Chinese embassies are also going to be receiving Hongqi and FAW is applying to have them considered an item of foreign aid to be presented to governments of developing countries.
The Hongqi model set to go into production is the H7 and it is still not entirely a local car.  The platform is based on the Toyota Crown, though the H7 looks a bit different.  The recently announced SUV will also based on the Landcruiser.  Nonetheless, the Hongqi is a local brand and will inspire feelings of nostalgia for the days when the party elders used it as their vehicle of choice.  Local people might feel buying Hongqi shows patriotism and a certain humility.  The usual foreign brands are associated with a sort of showiness that China hopes to get beyond.  It would also make sense for the government to populate their parking lots with the Hongqi as they seek to deflect charges of corruption and excess.  In the end, the Chinese are rational customers and quality standards will need to be maintained if the Hongqi is going to compete with the foreign brands in its price range.